Sometimes, all you really need is a really good looking monitor for a clear reference or even a client. Enter the market-established AC7-OLED from SmallHD. An extremely rugged (we'll get to that later), lightweight, and beautiful OLED monitor for everyone. While the AC7-OLED is not a newcomer to the industry, it definitely still packs a punch where it counts and is reliable for the user. The extremely beautiful OLED display keeps you engaged while being lightweight and consuming less power than the competition.
With so much production being on location, having a monitor that doesn't draw much power while on battery is a great tool, especially when it's a luxury item (like a client monitor). The AC7-OLED has the ability to run off of standard Canon LP-E6, Panasonic CGA-D54, or even Anton Bauer Gold Mount batteries.
The native resolution of 1280×800 (720p) may not make you jump out of your seats, but on an OLED, the AC7 is a very clear monitor to even pull focus on. The size of 7.7 inches helps, as well. Running a drone, monitoring a Steadicam (or gimbal), or dolly push, and letting your client see the shot are all great uses if you don't need it on the camera.
Having a good looking monitor is one thing. It makes you feel good about yourself when you hand it off to your client so they can see what you're seeing. Unfortunately, handing off your $1000 monitor to an inexperienced person isn't a great feeling. You're constantly side-eying your client to make sure they're respecting your gear like a newborn child and you're silently praying that they don't accidentally drop your baby. Well, fear no more! Watch the video for more on this.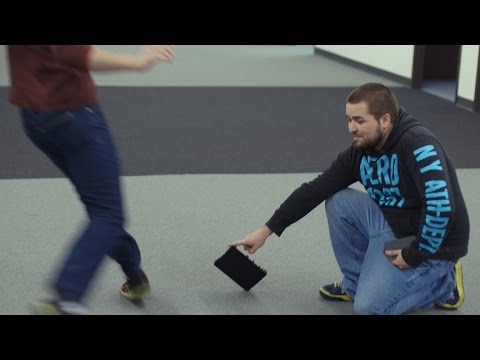 See? You're gonna be fine.
Something that has been mentioned is the idea of using this monitor as a client monitor. Check out this quick video for a great reason to pair this with the SmallHD 500 and 700 series monitors:
That's pretty useful. Downstream LUT additions for your client monitor? No more "is this supposed to look dull and lifeless?" or "I don't like the look of this at all!" from your clients! Save the time and hassle of explaining LOG to your clients! Run a SmallHD 502 as your on-camera monitor, pair it with the Teradek system of wireless transmitters, hand your customer the AC7-OLED and an Anton Bauer Digital 150 and put them in a corner so you can get to work! You're welcome.
There may be monitors with higher resolution on the market and probably ones with more functions. But when you want a reliable, lightweight, and accurate monitor that fits your budget, the AC7-OLED deserves a long look at joining your crew.
Here are the manufacturer tech specs (or you could just click here):
Display
| | |
| --- | --- |
| Panel Type | OLED |
| Size Diagonal | 7.7 |
| Resolution | 1280×800 (720p) |
| Pixel Density (PPI) | 196 |
| Aspect Ratio | 16:10 Native, 16:9 Video Image |
| Active Area | 7.7 in |
| Brightness | 250 cd/m2 |
| Contrast | 10,000:1 |
| Color Gamut | 100%+ NTSC (100% Rec 709) |
| Color Depth | 24 Bit (8bpc) |
| Viewing Angle | 160+ |
Input Signal Types/Formats
| | |
| --- | --- |
| HD-SDI | 1080p30/25/24, 1090psf30/25/34, 1080i30/25, 720p60/50, 576p25, 576i25, 480p30, 480i30 |
| HDMI | 1080p60/50/30/25/24, 1090psf30/25, 1080i30/15, 720p60/50, 576p25, 576i25, 480p30, 480i30 |
| Component | 1080i30/25, 720p60/50, 576p25, 576i25, 480p30, 480i30 |
| Composite | 576p25, 576i25, 480p30, 480i30 |
Output Signal Types/Formats
| | |
| --- | --- |
| HD-SDI | 1080p30/25/24, 1090psf30/25/34, 1080i30/25, 720p60/50, 576p25, 576i25, 480p30, 480i30 |
Connector Type
| | |
| --- | --- |
| SDI | 1 SDI (in), 1 SDI (out) |
| HDMI | 1 HDMI (in) |
| Component | 1 YPbPr (in) |
| Composite | 1 CVBS (in) |
| Audio | N/A |
| Power | Hirose (Locking) |
| USB | 5 VDC @ 1A |
Controls
| | |
| --- | --- |
| Primary Control Interface | Scroll Wheel with 2 Multi-Function Buttons |
| User Defined Functions | 2 Multi-Function Buttons |
Data I/O
| | |
| --- | --- |
| USB | Firmware Updates Only |
Power
| | |
| --- | --- |
| Connector Type | Barrel & Locking Hirose |
| Voltage | 7v – 18v DC |
| Power Consumption | 12 watts |
| Battery Plate Included | N/A |
| Recommended Power Supply | Input: 110-240v, Output: AC12v DC / 2A, US Style 2 Pin (no Ground) |
| Battery Types | Optional: Canon LP-E6, Anton Bauer Gold Mount, Panasonic CGA-D54 |
Environmental
| | |
| --- | --- |
| Compliance | CE |
| Operating Temperature | 30F to 90F |
| Storage Temperature | 0F to 120F |
| Screen Protection | Includes: Impact resistant Gorilla Glass screen protection. Optional: Scratch Protector |
| Height | 5.1″ (12.95cm) |
| Width | 7.9″ (20.07cm) |
| Depth/Length | .9″ (2.29cm) |
| Weight (Item Only without battery) | 13.8oz (391.22g) |
| Weight (Packaged) | 32oz (907.18g) |
| Mount Points | (2) ¼-20 thread points (top & bottom) |
| Construction | Aluminum Skeleton + Rubberized ABS Housing +Gorilla Glass Screen |
Software
| | |
| --- | --- |
| Pixel Zoom (type) | 1:1 Pixel Mapping, 2X Zoom |
| Frame Guides | Yes |
| DSLR Scale | Canon, Nikon |
| Custom Scale | Yes |
| Anamorphic De-Squeeze | Yes |
| Image Flip (Manual/Automatic) | Yes |
| Focus Assist (Colors) | Yes |
| Peaking | Yes |
| False Color | Yes |
| Image Capture | Freeze ONLY no Capture |
| Blue Only | Yes |
| Firmware | User Upgradable |